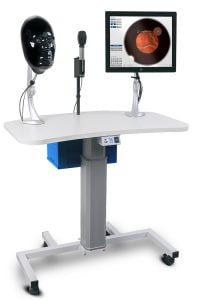 Training Simulator for Direct Ophthalmoscopy
The Eyesi® Direct Ophthalmoscope simulator is an innovative way of teaching direct ophthalmoscopy. Eyesi Direct is handled the same way as its real counterpart. Students can examine virtual patients of varying ages and ethnicity.
Curriculum for Self-Guided Learning
The case database of Eyesi Direct contains a selection of clinically relevant variations of the retina. The simulator offers a standardized curriculum for self-guided training of large classes.
Eyesi Direct is available in English, Chinese, French and Spanish.
Findings Library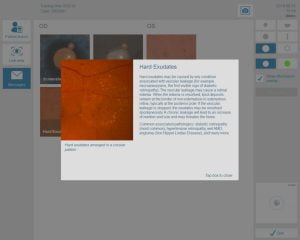 When a trainee detects a finding, a tile with a brief description of the finding is shown. The trainee can tap the tile to view details about the finding. Each collected tile is saved in the trainee's personal findings library, which can be accessed anytime – on the simulator or online.
Built-in Curriculum
The curriculum of four courses facilitates independent learning in a time window of only a few hours. After completion, trainees possess a defined level of knowledge and can recognize pathological findings using the direct ophthalmoscope. The curriculum is based on the principle of deliberate practice: frequent practice at a suitable level of challenge with immediate feedback.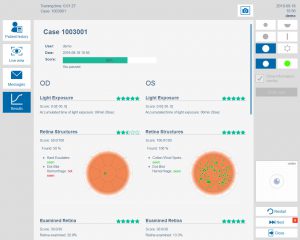 Feedback and Assessment
Eyesi Direct provides objective feedback directly after each examination so that students can systematically improve their performance. For example, trainees learn if they have examined all areas of the retina and have seen all relevant findings. To keep track of their students' progress, educators can access the training data through the VRmNet web portal.
Immersive Training
Eyesi Direct provides an immersive, graphic experience for efficient training. When looking through the direct ophthalmoscope, students see virtual patients who blink, move their eyes, and react to light. Diopter settings and light intensity are adjusted through controls on the handpiece.