NIDEK OPTHALMIC YAG/SLT LASER
YC-200/YC-200 S PLUS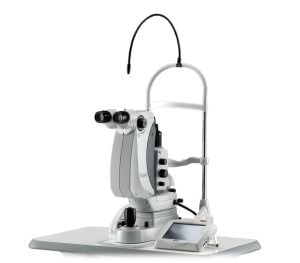 The YC-200 S plus / YC-200 achieves 1.6 mJ plasma threshold in air*1, delivering accurate and robust treatments with lower energy.
*1 A plasma threshold of 1.6 mJ is achieved in ordinary room conditions (in-house data).
The YC-200 S plus offers an advanced SLT mode. SLT is highly effective for treating open angle glaucoma.
The SLT-NAVI feature presents an intuitive display on the progress of laser treatment, providing the surgeon with important feedback.
An improved optical design that optimizes resolution and contrast, and an expanded focal depth provide a clear view of pathology and treatment. A unique illumination system with an LED light source results in a bright, near-natural view that minimizes aberration. The sharp, clear optics provide an enhanced view of the treatment area.
Features:
Refined laser delivery with lower energy
SLT mode
Clear and sharp field of view
Precise aiming beam
Optimized operating distance
Unique joystick
NIDEK GREEN SCAN LASER PHOTO-COAGULATOR GYC-500 / GYC-500 VIXI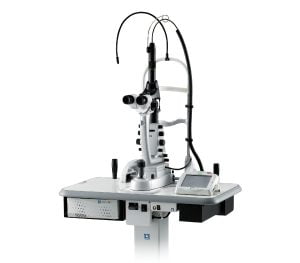 This multifunction laser is housed in a small console. The space-saving design allows portability to virtually any room. The GYC-500 can be integrated into the NIDEK CV-30000, ophthalmic surgical system.
An intuitive graphic user interface and easy-to-read touch screen color LCD allows quick and easy setup and verification of the scan pattern and treatment parameters.
The GYC-500 Vixi / GYC-500 ensures stable laser output by using a solid state laser. Two cooling fans in the console maintain the correct internal temperature.
Features:
Lightweight and compact design
5.7-inch color LCD with touchscreen control box
Stable and reliable green laser
Multiple scan patterns (only for GYC-500 Vixi)
Wide range of selectable delivery units