NIDEK AUTO LENSMETER LM-7P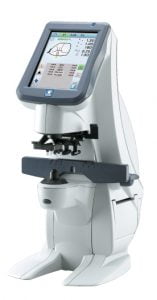 Hartmann sensor with 108 measurement points:
An advanced measurement principle, that incorporates simultaneous measurement of 108 data points within the nosepiece, provides greater accuracy and reliability with easier and faster measurements.
Automatic lens type detection:
Placing the lens on the nosepiece activates the auto lens type detection to automatically determine the lens type -not only for single focal lenses but also for multifocal lenses- switching its measuring mode accordingly for a single focal lens, bifocal or progressive lens.
Features:
Hartmann sensor with 108 measurement points
Automatic lens type detection
Scale mode function
UV transmittance measurement
Full graphic vertical 5.7-inch color LCD with touch screen
NIDEK AUTO LENSMETER LM-1800PD / LM-1800P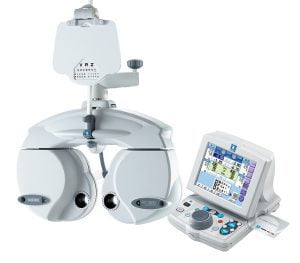 The 5.7-inch color LCD touch screen displays all data with high visibility. Simple, understandable, and comfortable user interfaces ensure an effective operation. The jog dial on the control box provides smooth operation.
The S/C/A mode key on the center of dial allows the operator to quickly change sphere, cylinder and axis powers using only one hand. The RT-3100's control box includes a built-in, high-speed printer. It automatically prints out the measured results, and the data is simply laid out so that operator can easily explain to patients. Replacing the paper is totally effortless and takes only a few seconds.
Features:
Smooth, quick, silent lens selection
R/L independent PD adjustment for improved precision
Clear, white LED illumination
High quality near point card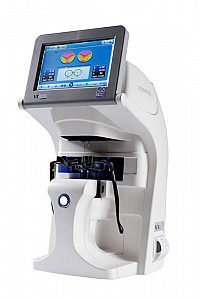 The VX40 can analyze up to 1,350 points. It detects and analyzes bifocal, progressive, and single vision lenses and is compatible with all lens technologies and brands.
A device for you to take care of the visual health of all your patients
Features:
Automatic lens type detection
Automatic measurement
Freeform lens analysis
Single vision measurement
Progressive lens analysis
Comparison between progressive lenses