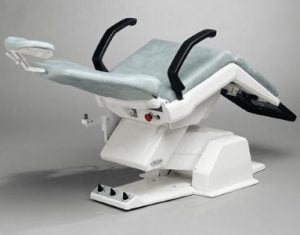 The CANCAN 2100 is the dental chair that adapts to the individual practitioner´s working methods, whichever they may be. This chair is designed for flexible dentistry, and there are no limits on freedom of choice of position. Two different neck rests are available for the CANCAN 2100. Either double-articulated, offering a wide choice of positions, or forward and backward angling, with detachable neck cushion.
The arm rests, available in black integral foam plastic or leatherette, open outwards at right angles to provide support when getting into or out of the chair. The foot rest provides greater comfort for patients in the sitting or half-sitting position.
Trendelenburg is sometimes necessary.
Equipped with wheel for movement.
The CANCAN 2100 is load-tested up to maximum weight 200 kg.
The double foot controls mean that the chair is easy to manipulate from either side.
The CANCAN 2100 is available either with or without automatic controls. Automatic controls offer considerable advantages. It is a simple matter to program working positions to suit individual requirements. These are then stored in the memory until reprogramming.
Peri as a phthalate-free artificial leather made from renewable, non-oil-based, raw materials. Suitable for all types of furniture design where it is important for the material to be safe and non-allergenic. Peri meets the high standards that customers within the public sector and healthcare sector demand of a modern artificial leather in terms of environmental friendliness and durability. The material withstands massage oil, disinfectants and cleaning agents.
Features:
Max length in reclining position 2100 mm
Width 650 mm
Lowest seat height 460 mm
Highest seat height 870 mm
Base plate external dimensions W500 mm, L920 mm
Net weight 117 kg
Motor, top 220V, 215W, 1A
Motor, base 220V, 320W, 1A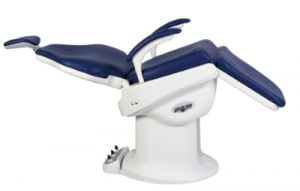 The 900 dental chair, successor to the popular 90-chair. Stability from the traditional 2100chair and comfort och movement from 90 precursor.
Put a new brave design to this, and you will get the best of two worlds.
Wheeled chair
Center bracket for installation of suction hose holder
Max length reclining position: 174 cm
Width: 63 cm
Lowest seat height: 55 cm
Highest seat height: 88 cm
Baseplate dimensions: B50, L66 cm
Net weight: 120 kg