OSCAR MEDTEC TRANSPORT TROLLEY 310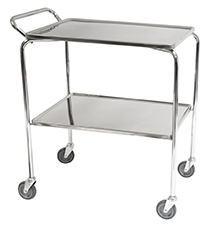 Oscar Medtec develops and manufactures robust trolleys that are easy to manoeuvre and are suitable for use for goods trolleys, instrument tables and sampling trolleys. These trolleys come in a range of different sizes and can be kitted out to suit your needs. This functional, stylish design, in combination with the four 100 mm castors, makes these trolleys really easy to manoeuvre. All shelf spaces are made of stainless steel and are easy to clean. The tray is pressed into the underside of the MDF panel, making it impossible for water to penetrate into the joint.
TWO-LEVEL TROLLEY THAT IS EASY TO MANOEUVRE
A functional, easy to push transport trolley supplied as standard with a push handle on one short side and permanent stainless steel trays on two levels. The tight joints make the stainless steel tray easy to clean, thereby ensuring maximum hygiene. Optional extras include container kits and braked castors. Antistatic castors are also available.