Refractors / Keratometers
NIDEK AUTO REF/KERATO/TONO/PACHYMETER TONOREF III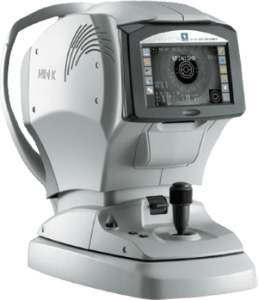 The TONOREF™ III provides the automated calculation function of the corrected IOP based on the central corneal thickness. Objective measurement of accommodation is performed with patient's focusing on a target that moves from distance to near.
Features:
Combination of auto refractometer, auto keratometer, non contact tonometer and non contact pachymeter
High measurement accuracy
Clinically important functions ‐ accommodation measurement and opacity assessment
User-friendly design
Space saving design that is a comfortable and efficient upgrade to your practice
NIDEK AUTO REF/KERATOMETER ARK-1S/1A/1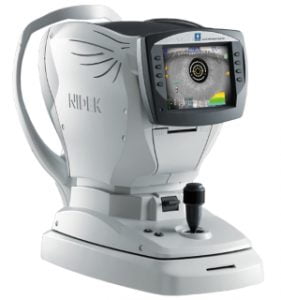 The large pupil zone imaging method enables the measurement of wide area refraction of up to 6 mm diameter and can indicate the difference between the wide area refraction and central area refraction of up to 3.5 mm diameter.
The system combining the Super Luminescent Diode (SLD) and highly sensitive CCD significantly improves measurement capability even in dense cataractous eyes.
Fogging allows the patient to view the target clearly and minimizes the interference with accommodation even in high astigmatism.
Features:
Accurate refraction measurement
Easy VA measurement with glare test
Simple opacity assessment with retroillumination image
Patient-friendly accommodation measurement
Keratometry measurement with mire ring
NIDEK HANDHELD REF/KERATOMETER HANDYREF-K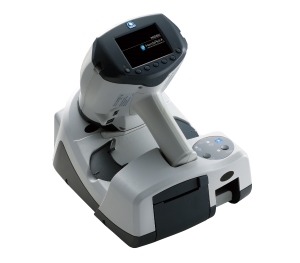 The HandyRef-K / HandyRef is lightweight and also has excellent weight distribution. Its compact design makes it easy to hold, balance, and use. Intelligently designed button layout is also useful in one-handed operation.
New full graphic 3.5-inch color LCD is 40% larger than the previous model. Clear screen design and intuitive icons similar to the ARK-1 / AR-1 series provide high user-friendliness.
Features:
Anytime-anywhere handheld measurement
Excellence of advanced functions
Improved usability by innovative functionality
Measurement method
Measurement mode
NIDEK AUTO REF/KERATOMETER ARK-F/AR-F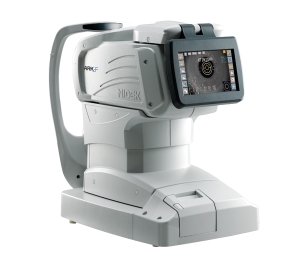 Remarkably easy workflow through fully‐automatic measurement. Simply by placing the chin on the chinrest, NIDEK eye detection camera automatically detects the position of the eyes and measurement starts without pressing any button. Gentle voice guidance facilitates smooth measurement for any operator.
Selectable and intuitive manual operation. Manual measurement using the large, durable 7.0-inch touch screen is also possible with the ARK-F/AR-F. Alignment is easily achieved by simply long-pressing a position on the screen and an icon. Clearly identifiable icons assure intuitive operation. Moreover, a newly designed hand-held control and tablet control software are available as options that increase operator freedom and productivity.
Features:
Advanced operation
Accurate measurement
Flexible and space-saving design
Practical and user-friendly features
Network configuration with high flexibility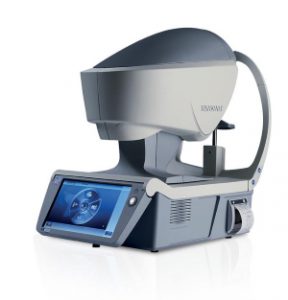 A device for you to take care of the visual health of all your patients. The screening services provided by the VX 120+ give you the opportunity to alert your patients of pathologies like glaucoma, cataracts, keratoconus, as well as correcting vision defects including those affecting night vision, and in so doing complete the panel of services that you offer as an optician / optometrist. Earning client loyalty through competent care and good relationships becomes easier. By giving the client more time, with more information about their visual health, they will naturally recognise your long-term added value.
Features:
You will improve your daily practice
You will provide better service and create differentiation
You will have more patients and have the opportunity to sell night glasses
You will receive better trust and an enhanced reputation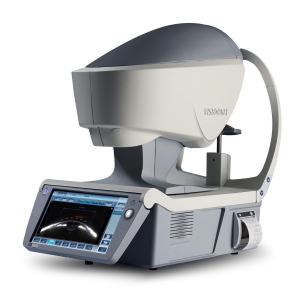 Glaucoma and keratoconus detection, identification of patients for cataract surgery with premium and/or toric implants, identification of patients for refractive surgery. The VX130+ combines state-of-the-art technologies and provides essential data for optimal patient eye care. The VX130+ is the ideal patient monitoring system.
Features:
You will improve your daily practice
You will provide better service and create differentiation
You will have more patients and have the opportunity to sell night glasses
You will receive better trust and an enhanced reputation